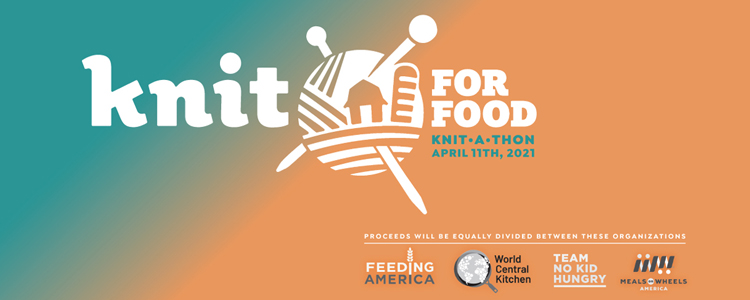 Knit for Food Knit-a-thon is a 12 hour knitting marathon held on April 11th, 2021 to raise funds and awareness for food insecurity. The money we raise will be equally divided between Feeding America, World Central Kitchen, No Kid Hungry, and Meals on Wheels.
Donations must be made by 10pm ET on 4/11/21.
There are two ways to support the Knit-a-thon:
You can sign up to knit/craft for 12 hours OR you can donate!
SCHEDULE 4.11.21
Thanks so much for supporting our effort to craft a better future.
Need logos to share on social media? GO HERE!
To learn more about these organizations:
Feeding America- The Feeding America network is the nation's largest domestic hunger-relief organization, working to connect people with food and end hunger. Donors, staff, and volunteers all play an important role in our efforts to end hunger in the United States.
World Central Kitchen- WCK uses the power of food to heal communities and strengthen economies through times of crisis and beyond.
No Kid Hungry- No child should go hungry in a nation as wealthy as ours. But millions of kids are living with hunger right now because of the pandemic. With No Kid Hungry, you can help change that for good.
Meals on Wheels- Today, the average life expectancy is at a record high of 79 years. As we get older, even the most independent among us may experience physical declines or financial hardship that strips away our independence. Add to that an increase in geographic mobility of our families, and the result is millions of seniors left behind, hungry and alone.
FAQ
Is there a minimum to fundraise?
Definitely not, but to receive a link to the event you must sign up as a team member and raise a minimum of $100.
What if I don't knit?
Don't knit? That's OK! Any crafting practice is welcome!
Have you seen the Gilmore Girls?
YES, we were inspired by the infamous Gilmore Girls Knit-a-thon episode!

Do I have to attend the zoom?
Definitely not! If you want to knit-a-thon, but don't want to participate in the accompanying zoom event that is a-ok! Just grab your yarn, needles, and snacks and KNIT!
How are the funds being collected and distributed?
We are using a fundraising platform called Givebutter for optimal transparency. 100% of the funds collected will be split evenly between the 4 organizations listed above. Donors will be charged a credit card fee when they donate and will also have an option to tip Givebutter.
Givebutter does not charge any platform fees and relies on your generosity to support this free fundraising service. You can read more about that here.
Do you have Merch?
YUP! We've uploaded our graphic to Redbubble, proceeds will help pay for graphic design, and any proceeds leftover will be split between the four organizations listed above!

Mailings
Week 1
Week 2
Week 3
Week 4