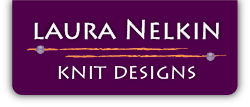 Contact Information
Laura Nelkin
Nelkin Designs
Trumansburg, NY
info@nelkindesigns.com
Ravelry ID: LauraNelkin
All Nelkin Designs patterns are available for sale to wholesale accounts. Please contact me for wholesale information.
If you have questions about patterns I will attempt to answer them within 24 hours of receiving your e-mail.

I am also available to teach workshops on my patterns, one of my favorite things to do. Please contact me if you'd like to hear more.
Interviews:

Knitting Patterns Published:

Kelbourne Woolens

The Rhinebeck Sweater

Scarf Style 2

November Knits

Knitting in the Sun

Schaefer Yarn Company

Knitty.com

Knotions.com

Interweave Publications

Creative Knitting

Knit 'N Style

Designer One Skein Wonders (Storey Publishing)

Luxury One Skein Wonders (Storey Publishing)

Knitting Socks with Handpainted Yarn (Interweave Press)

Tops and Toes (DRG Publishing)

Travel Knitting (DRG Publishing)

Circular Knitting (DRG Publishing)

Knitting Pattern-A-Day Calender 2009 (Accord Publishing)