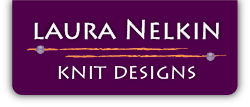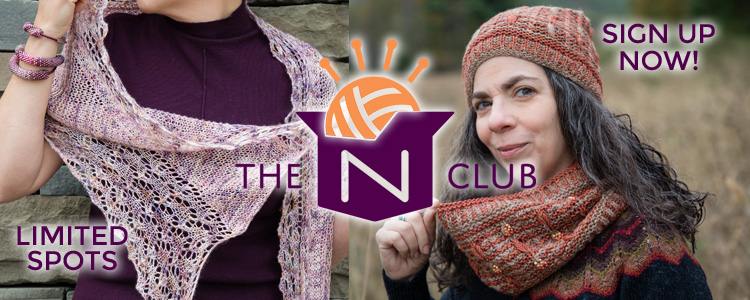 What is The N Club?
The N Club is my exclusive kit club and knit-a-long community. This year, 2024, is the seventh year! The N Club is perfect for knitters who like to challenge themselves and learn new techniques in a fun and extremely supportive environment.


How does it work?
Members of the N Club receive three extraordinary kits throughout the year. Each design is created specifically for N Club, which means you get private access to brand-new designs by me, Laura Nelkin!
Plus, every kit includes a full-length video tutorial of me teaching you how to knit my latest design. It's almost like having a private session with me in your very own living room!

What do the kits contain?
Super Special Yarn chosen exclusively for the project.
Any extraordinary tools necessary for the KAL.
AN EXTRA SPECIAL GOODIE! If you've been in any of my clubs before you know that these are pretty special!
Beads! There's always a non-beaded option, too.
Comprehensive (and exclusive) video tutorials.
"UnBoxing" Zoom events: These unboxings are recorded and links are sent out to members afterward.
All 3 pdf patterns are included in the Club price. Every kit will include a redemption code.
How can I sign up?
Signing up is super easy. You can register today with a $50 deposit. And you won't need to worry about the remainder until next year.
The balance will not be charged until February 15th (to pay the full amount sooner e-mail me).

This club sells out year after year, so make sure to claim your spot!
Registration is open for a limited time and you won't have another chance to sign up until 2025's club releases!

What is the community aspect like?
Let's unbox together! Each kit will have an "unboxing" event on Zoom just for club members! In these FUN events, the contents of your kit will be revealed AND I'll do a deep dive into the design to show you everything you need to know to knit the pattern successfully. The unboxing event will end with knitting breakout rooms so you can hang out and knit with old and new friends alike. Think of these as a mini virtual retreat!

Last but not least: All members will be invited to join a private Facebook group to connect with your fellow N clubbers. We are a vibrant community with a no knitter left behind policy and we'd love to have you join us!
2024 Schedule (subject to subtle change)
Kit #1-
Kits Ship: Late March/Early April 2024
Pattern Releases: Mid April 2024
Kit #2-
Kits Ship: Mid July 2024
Pattern Releases: Early August 2024
Kit #3-
Kits Ship: Late September 2024
Pattern Releases: Mid October 2024

More questions? Check out the FAQ page here. Please read through it closely as it should answer any questions you may have. If you read through it and still have questions, feel free to e-mail me.