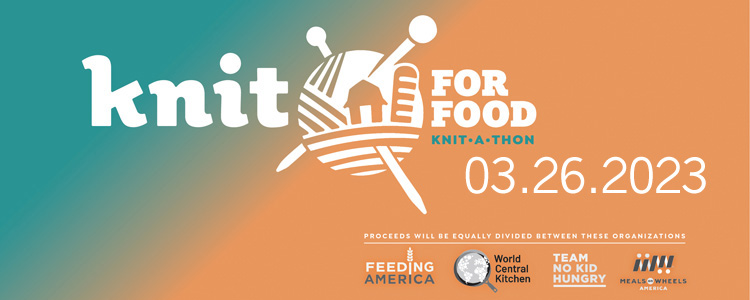 Knit for Food Knit-a-thon is a 12 hour knitting marathon.
Our third annual knit-a-thon was on March 26th, 2023 to raise funds and awareness for food insecurity.
We raised $340,000 in 2023! AMAZING WORK KNITTERS!
100% of the money we raised has been equally divided between Feeding America, World Central Kitchen, No Kid Hungry, and Meals on Wheels.

If you want to join us in 2024 sign up for my mailing list!

You can see the success of our first knitathon in '21 here and the '22 knitathon here.
In 2021 we raised $265,810 and in 2022 we raised $271,761 !!!
GO KNITTERS!!!! Thanks so much for supporting our effort to craft a better future.

Scroll down for the FAQ!
Need images for Social Media or a flyer to hang in your shop? GO HERE!
ZOOM Schedule 3.26.23 (all times in ET)

To learn more about these organizations:
Feeding America- The Feeding America network is the nation's largest domestic hunger-relief organization, working to connect people with food and end hunger. Donors, staff, and volunteers all play an important role in our efforts to end hunger in the United States.
World Central Kitchen- WCK uses the power of food to heal communities and strengthen economies through times of crisis and beyond.
No Kid Hungry- No child should go hungry in a nation as wealthy as ours. But millions of kids are living with hunger right now because of the pandemic. With No Kid Hungry, you can help change that for good.
Meals on Wheels- Today, the average life expectancy is at a record high of 79 years. As we get older, even the most independent among us may experience physical declines or financial hardship that strips away our independence. Add to that an increase in geographic mobility of our families, and the result is millions of seniors left behind, hungry and alone.
FAQ
Is there a minimum to fundraise?
Definitely not, but to receive a link to the event you must sign up as a team member and raise a minimum of $100.
What if I don't knit?
Don't knit? That's OK! Any crafting practice is welcome! Crochet! Sew! Macrame! Weave! ETC!
Have you seen the Gilmore Girls?
YES, we were inspired by the infamous Gilmore Girls Knit-a-thon episode!

What are we doing on March 26th, 2023?
The knit-a-thon will take place on March 26th, from 10am-10pm ET. There will be a schedule of zoom programming throughout the day (music, speakers, breakout knitting rooms, yoga, stretching, knitting ergonomics, etc.). We'll hear from each of the four organizations that we're fundraising for to learn more about the work they're doing.

Do I have to attend the zoom?
Definitely not! If you want to knit-a-thon, but don't want to participate in the accompanying zoom event that is a-ok! The zoom programming is completely optional! You could stay home alone, get together with another knitter, or gather with a group of crafty friends at your LYS and stay offline. The choice is completely yours.
What are we knitting?
Whatever you want! If you are inspired to knit for charity we've put together a resource of organizations that collect donations here! Some knit-a-thoners knit a prize for their donors (to be raffled off at the end of the event). Some of us knit for ourselves... which is totally ok! You are doing GREAT work by joining in to raise money and knitters need handmade sweaters too!
How are the funds being collected and distributed?
We are using a fundraising platform called Givebutter for optimal transparency. 100% of the funds collected will be split evenly between the 4 organizations listed above.
Donors will be charged a credit card fee when they donate and will also have an option to tip Givebutter.
Givebutter does not charge any platform fees and relies on your generosity to support this free fundraising service.
You can read more about that here.

We do not accept checks. Because we have a deadline, by the time a check is sent, processed, cleared, recorded, our window to accept donations will have expired.
Your donor can write you a check, then you can make the donation through the portal.
Can I set up a team with my LYS or Guild?
If your guild or LYS wants to set up one account as a team member to fundraise under and have everyone use the same link to solicit donations that is absolutely ok! Just keep in mind that whoever signs up will be getting e-mails from the Knit For Food Team and it will be their responsibility to forward information on.
Do you have Merch?
Want some Knit for Food MERCH?
BIG NOTE: Selling merch does not raise funds for Knit for Food, if you want to donate to the knit-a-thon please do so here!
Any proceeds left after paying our graphic designer will be split between the four organizations listed above!
Want to make new friends and inspire each other?
Join our FACEBOOK group! Please use the hashtag #knitforfood on social media!